At Keller Williams we believe in giving back to the community and boy do we do it in so many ways! A lot of our agents participate on local boards, church leadership, and in community organizations and so it should be no surprise that we bring it back to where we work.

For #OctoberAwareness month, we raised funds for the West Central Georgia Cancer Coalition, exceeding last year's goal to donate $400 to help families prevent and treat cancers, improve access to quality care for Georgians with cancer, save more lives, train individuals to be doctors and researchers, and improve economic health by eradicating cancer. Read more about the WCGCC mission and organization on their website.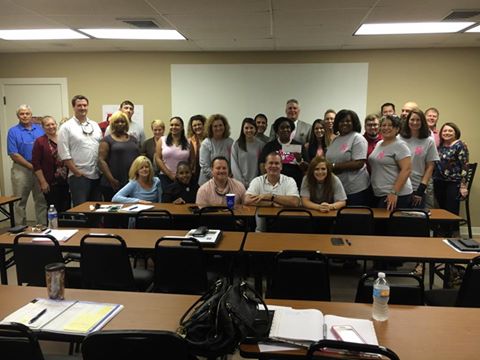 Our Keller Williams office was also surprised to receive the Corporate Partner Award at this year's Enrichment Services Program (ESP) Board luncheon. Leadership from our office accepted the award on behalf of all our agents who rehabilitated the grounds, gym and parent resource room, of the Benning Hills School where E.S.P. provides education, training, adult resources for education and employment, and created quiet outdoor reading and reflection areas for the students.
Our food drive during the same time period provided 121 families with non-perishable meal items. But what E.S.P. was even more grateful for, was the time we took to read to the children!
Find out more about Enrichment Services Program on their website and see pictures of what we did on our Facebook page!