Every year in February, the state of Georgia sets aside a week dubbed "Georgia Severe Weather Preparedness Week" as an awareness raising event before spring storms hit.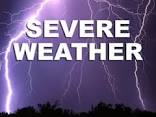 Homeowners new to the area may not be aware that our region is susceptible to severe weather events which include flooding, tornadoes, strong thunderstorms, lightning, and strong winds. While this may seem scary to those unfamiliar with these weather conditions, there are tools available to help you "weather the storm."

First, make sure to follow along with severe weather preparedness week. Here's the 2017 line-up which will include one morning where the sirens will go off all over town (don't panic!)

Then, download the Ready.gov app or visit https://www.ready.gov/georgia to find out more about the types of severe weather in our area and what you can do to prepare and take shelter in the event of severe weather.

Finally, check with your home owners policy BEFORE there is damage to see what will be covered in the event of flooding (including wind driven rain damage), or tree/debris damage to your home. Make sure to ask about your pools and outbuildings too!

Remember to call city services in Muscogee County at 311 if you see any storm drains or pools backing up due to trash or debris.

With severe weather preparedness, you can be ready for any storm!